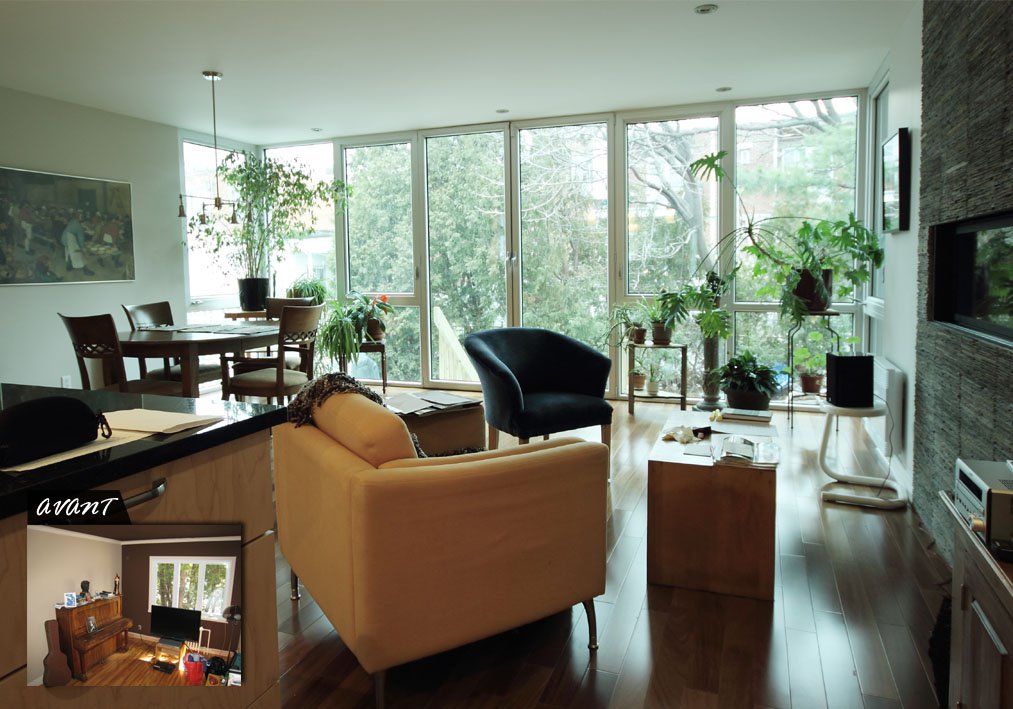 Interior Renovation
Montreal
Dining room and living room renovation Montreal
Be inspired by this superb dining room and living room renovation project in Montreal. You too can benefit from our expertise as a general contractor specializing in residential renovation and our turnkey renovation services. Call us for a free consultation!
Project description
If you have a room in your home that you don't use much, maybe it's time to give it a new purpose and transform it into a bright, stylish and practical room. For this residential renovation project, the customer wanted to refurbish a room that was not being used to its full potential, to make it a warm and modern dining and living room space. 
First of all, to add as much light as possible, we have completely redone the windows and added a patio door that would allow access to an outdoor terrace. We had to carry out extensive plastering work and also modify the electrical system to accommodate the new lighting fixtures.
Then, we tore off the very scratched and damaged hardwood floor and replaced it with a floating hardwood floor. In addition, our team has created a living room with a television area (television that is embedded in the wall), with decorative stone panels, to create a rustic and warm effect. For lighting, we suggested installing recessed fixtures and a suspended fixture above the dining room table. Our design team suggested lighter colors to give an impression of space and brightness.
As a company specialized in residential renovation, we take care of all the steps of your project: design, 3D drawing, demolition, construction, renovation, post-contract follow-up, etc. To do this, Construction Précellence has established long-term partnerships with flooring specialists, door and window specialists, electricians and plasterers to ensure the success of this project.
Any questions?
If you would like more information on the Montreal dining room and living room renovation project, on our turnkey renovation service, or on our prices, do not hesitate to contact us by email or by phone. Your first consultation is free of charge! Our team will be pleased to welcome you and answer all your questions.
Other interior renovation projects
Certifications