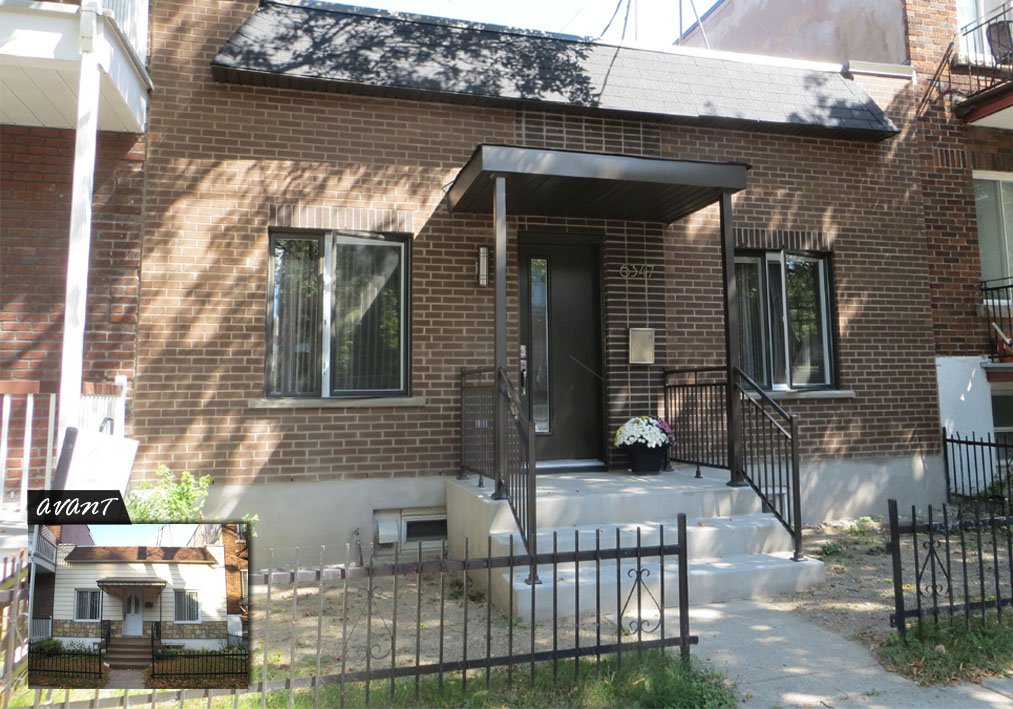 Exterior Renovation
Montreal
Outdoor bungalow renovation Montreal
Get inspired by this superb outdoor bungalow renovation project in Montreal. You too can benefit from our expertise as a general contractor specializing in residential construction and our turnkey construction services. Call us for a free consultation!
Project description
If you love your home, but the exterior appearance is a little old and faded, an outdoor transformation is a project to consider. Our Montreal client wanted to renovate the facade of his bungalow to give it a new look and make it more attractive and modern. Our team of architects immediately set to work designing an exterior renovation project that would consist of changing the exterior siding, changing windows and front door, and building a new front balcony.
Before starting, we obtained all the necessary permits to repair the facade to comply with the standards and regulations in effect in the municipality. Then, we removed the old vinyl siding and replaced it with a much more durable and solid brick siding. We have also changed the old windows to energy-efficient casement windows. Then, we demolished the wooden staircase and replaced it with a concrete staircase, much stronger and easier to maintain. We have added steel posts and steel railings, which are more resistant to the elements.
As a company specialized in residential renovation, it is our duty to take charge of each step of your project: obtaining permits, design, 3D drawing, demolition, construction, renovation, post-contract follow-up, etc. To achieve this, Construction Précellence has established sustainable partnerships with architects, inspectors, building material suppliers, electricians and construction workers to ensure that this project is a success across the board.
Any questions?
If you would like more information about this outdoor bungalow renovation project in Montreal, our turnkey construction service, or our prices, please do not hesitate to contact us by email or phone. Your first consultation is free of charge! Our team will be pleased to welcome you and answer all your questions.
Other exterior renovation projects
Certifications