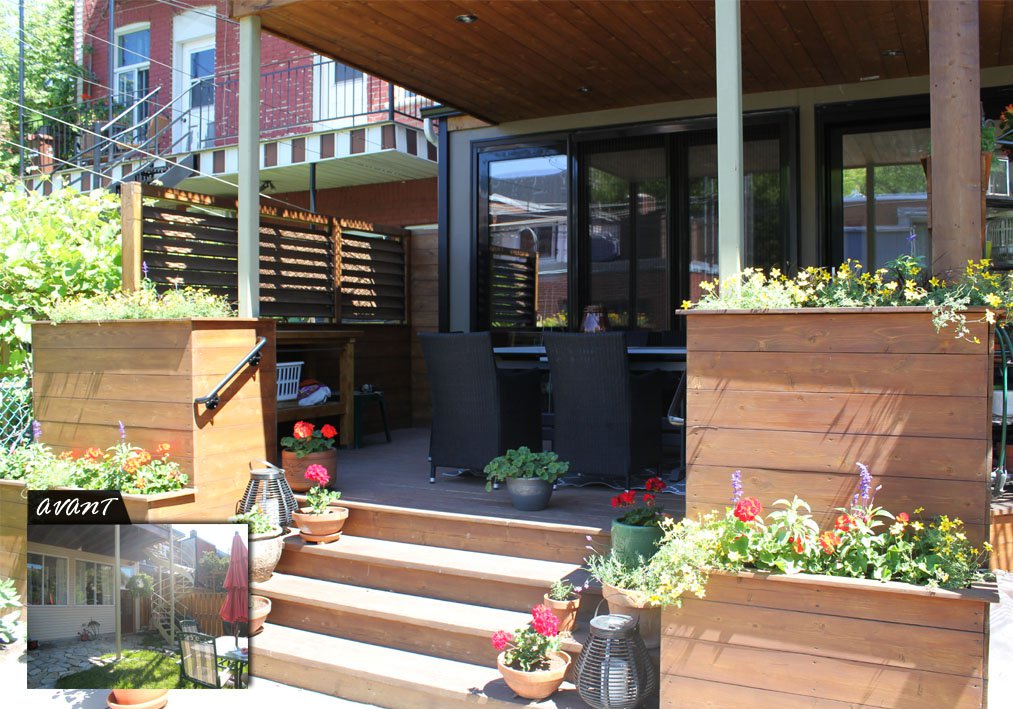 Terrace construction
Montreal
Outdoor terrace construction Montreal
Get inspired by this magnificent project to build a balcony and outdoor terrace in Montreal. You too can benefit from our expertise as a general contractor specializing in exterior construction and our turnkey renovation services. Call us for a free consultation!
Project description
If you have a small backyard, but enjoy spending time outdoors, building a terrace can be a wise investment. For this project, our client wanted to transform and optimize its backyard space by adding a terrace with a roof. 
Before starting this project, we took all the necessary steps with the municipality to ensure that this new construction met all applicable regulations and standards. Subsequently, we partially demolished the exterior siding at the back of the house in order to fix the terrace's anchoring and frame. 
Also, we changed the windows at the back of the house and added new siding. The customer chose treated wood as the main material for the construction of the terrace. Subsequently, we added wooden and steel beams to support the roof above the terrace. Our electricians have designed an electrical system to add recessed lights to the roof. We have added wooden side panels for privacy, spaces for flower and herb pots, and a staircase for easy access to the backyard.
As a general contractor specialized in exterior transformation, we take care of all the steps of your project: design, 3D drawing, demolition, construction, renovation, post-contract monitoring, etc. To do this, Construction Précellence has established sustainable partnerships with architects, building material suppliers, electricians and construction workers to ensure that this project is a complete success.
Any questions?
If you would like more information on this outdoor terrace construction project in Montreal, on our turnkey construction service, or on our prices, do not hesitate to contact us by email or by phone. Your first consultation is free of charge! Our team will be pleased to welcome you and answer all your questions.
Certifications