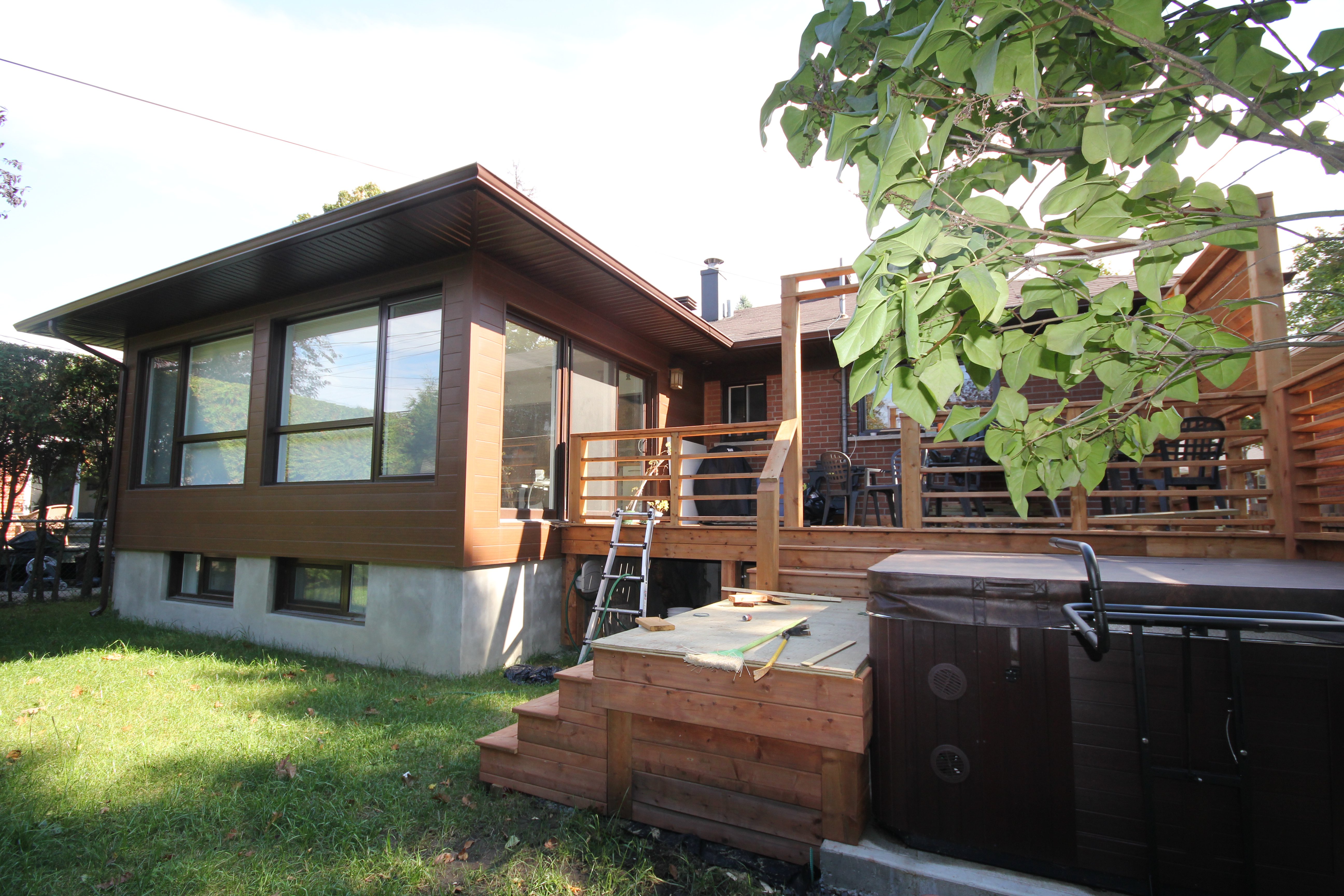 Home addition
Avenue des Plaines, Rosemont, Montreal
Home addition bungalow Rosemont
Be inspired by this magnificent home addition project on a bungalow in the Rosemont district, in Montreal. You too can benefit from our expertise as a general contractor specializing in residential expansion and our turnkey construction services. Call us for a free consultation!
Project description
These customers in Montreal's Rosemont neighbourhood added a solarium to their home a few years ago and it was beginning to show signs of age. After a meeting with a Construction Précellence consultant, the owners decided to kill two birds with one stone and demolish the solarium, to add an home addition on foundation, which would also give them additional space in their basement. Our team immediately set to work to create a 3D plan, a model and a detailed construction plan. 
Before starting the work, we obtained all the necessary authorizations from the municipalities in order to comply with the standards and regulations. First, we demolished the solarium at the back of the house and disposed of the remaining materials in a responsible and environmentally friendly manner. We excavated and poured the foundations and concrete slab. Our certified construction technicians installed the walls, frame and roof. Our electricians connected the electrical system of the residence to this new room. We have added engineered wood siding and an asphalt shingle roof. All walls are covered with large, energy-efficient casement windows. Finally, we added a large patio door that gives easy access to the backyard.
As a general contractor specializing in home addition, it is our duty to take charge of each step of your project: obtaining permits, design, 3D drawing, demolition, construction, renovation, post-employment follow-up, etc. To do this, Construction Précellence has established sustainable partnerships with architects, inspectors, building material suppliers, electricians and construction workers to ensure that this project is a success across the board.
Any questions?
If you would like more information on this residential house expansion project in the Rosemont district in Montreal, on our turnkey construction service, or on our prices, do not hesitate to contact us by email or by phone. Your first consultation is free of charge! Our team will be pleased to welcome you and answer all your questions.
Other home addition projects
Certifications