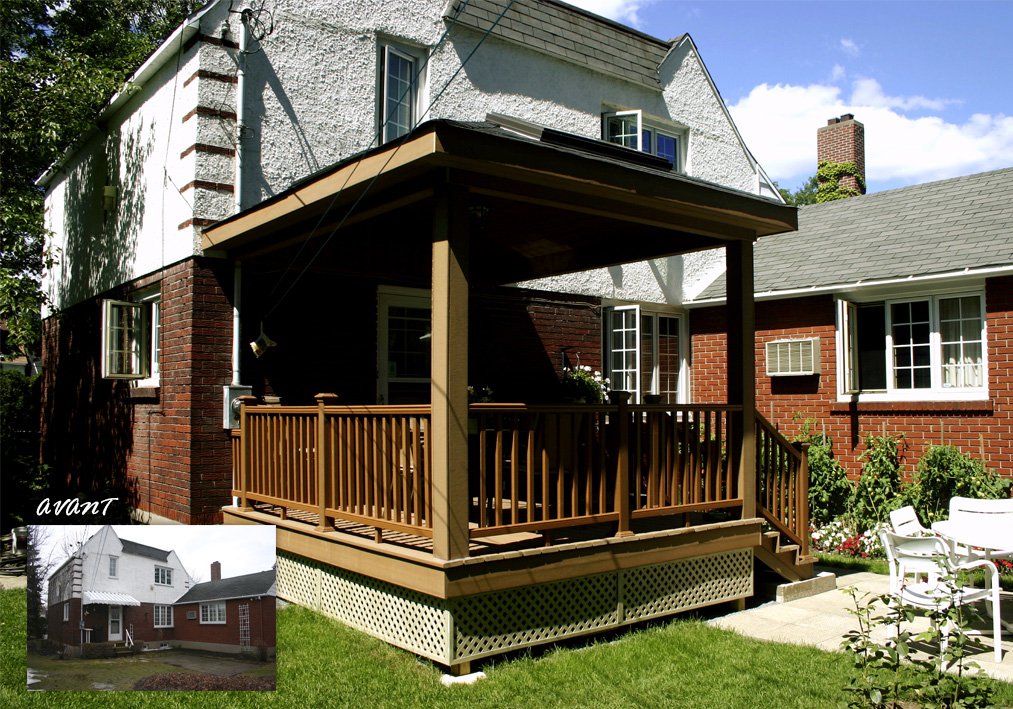 Terrace construction
Pointe-aux-Trembles
Outdoor terrace construction Pointe-aux-Trembles
Be inspired by this magnificent project to build an outdoor terrace on a house in Pointe-aux-Trembles. You too can benefit from our expertise as a general contractor specializing in residential construction and our turnkey construction services. Call us for a free consultation!
Project description
If you like to enjoy the outdoors while being protected from the weather and the sun, an outdoor terrace with a roof is the perfect solution for you. These Pointe-aux-Trembles customers wanted to add an outdoor space to their home that would allow them to spend more time outdoors while being comfortable. Our team immediately set to work to create a 3D plan, a model and a construction plan for an outdoor wooden terrace with anchoring to the house.
Before starting the construction of the terrace, we removed the small steps and the steel roof behind the house. Subsequently, our construction technicians laid a foundation of pillars without footings, installed the edge joist on the house, the posts and beams, the edge and intermediate joists, the treated wood floor, the wooden railings, and finally the lattice on the lower part of the terrace. We have also added a small wooden staircase that gives easy access to the backyard. The roof of the terrace is covered with asphalt shingles. This new construction has also allowed our customers to create a more pleasant space in their backyard.
As a general contractor specializing in exterior construction, it is our duty to take charge of each step of your project: obtaining permits, design, 3D drawing, demolition, construction, renovation, post-contract follow-up, etc. To do this, Construction Précellence has established sustainable partnerships with architects, inspectors, building material suppliers, electricians and construction workers to ensure that this project is a success across the board.
Any questions?
If you would like more information on this outdoor terrace construction project on a house in Pointe-aux-Trembles, on our turnkey construction service, or on our prices, we invite you to contact us by email or by phone. Your first consultation is free of charge! Our team will be pleased to welcome you and answer all your questions
Certifications