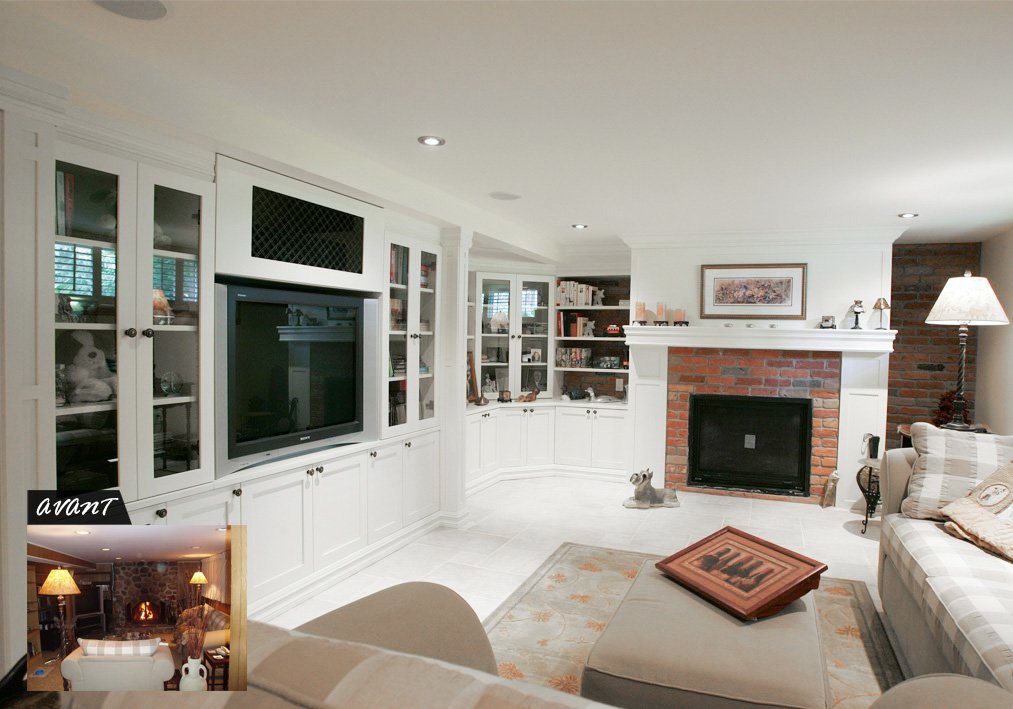 Basement Renovation
Montreal
Basement renovation Montreal
Be inspired by this magnificent basement renovation project in a Montreal residence. You too can benefit from our expertise as a general contractor specializing in residential renovation and our turnkey construction services. Call us for a free consultation!
Project description
The basement is a very special place compared to the rest of the house. Darker and more isolated, it is generally used for storage, for the layout of a small apartment or to accommodate a 2nd living room or a home theater room. These owners of a Montreal residence wanted to completely transform their basement into a warm and refined room where they could relax by watching a movie or reading a good book. After meeting with the Construction Précellence consultant, the clients decided to transform their basement to create a bright space with a rustic touch. Our design team set to work to create an interior renovation project plan including a 3D plan and model, schedule and budget to give the client a better overview of the final result.
The first step was to partially demolish the existing basement. Since the customers wanted to keep the wood fireplace, we had the delicate task of dismantling the stone hearth to build a wooden and brick hearth. We also removed the linoleum floor for a beautiful ceramic floor and removed part of the original ceiling. The centrepiece of this new basement is a magnificent custom-made wooden piece of furniture that is embedded in the wall for maximum space. The furniture includes six glass cabinets, shelves, more than ten storage cabinets and a space for a flat screen TV. Two walls were covered with bricks to enhance the rustic aspect of the room. We have also added recessed light fixtures with dimmers to adjust the brightness.
As a general contractor specialized in interior renovation, we take care of all the steps of your project: obtaining permits, design, 3D drawing, demolition, construction, renovation, post-contract follow-up, etc. To achieve this, Construction Précellence has established sustainable partnerships with architects, inspectors, building material suppliers, electricians, cabinet and furniture manufacturers, and construction workers to make this project a success from start to finish.
Any questions?
If you would like more information on this basement renovation project in Montreal, on our turnkey construction service, or on our prices, do not hesitate to contact us by email or by phone. Your first consultation is free of charge! Our team will be pleased to welcome you and answer all your questions.
Other basement renovation projects
Certifications