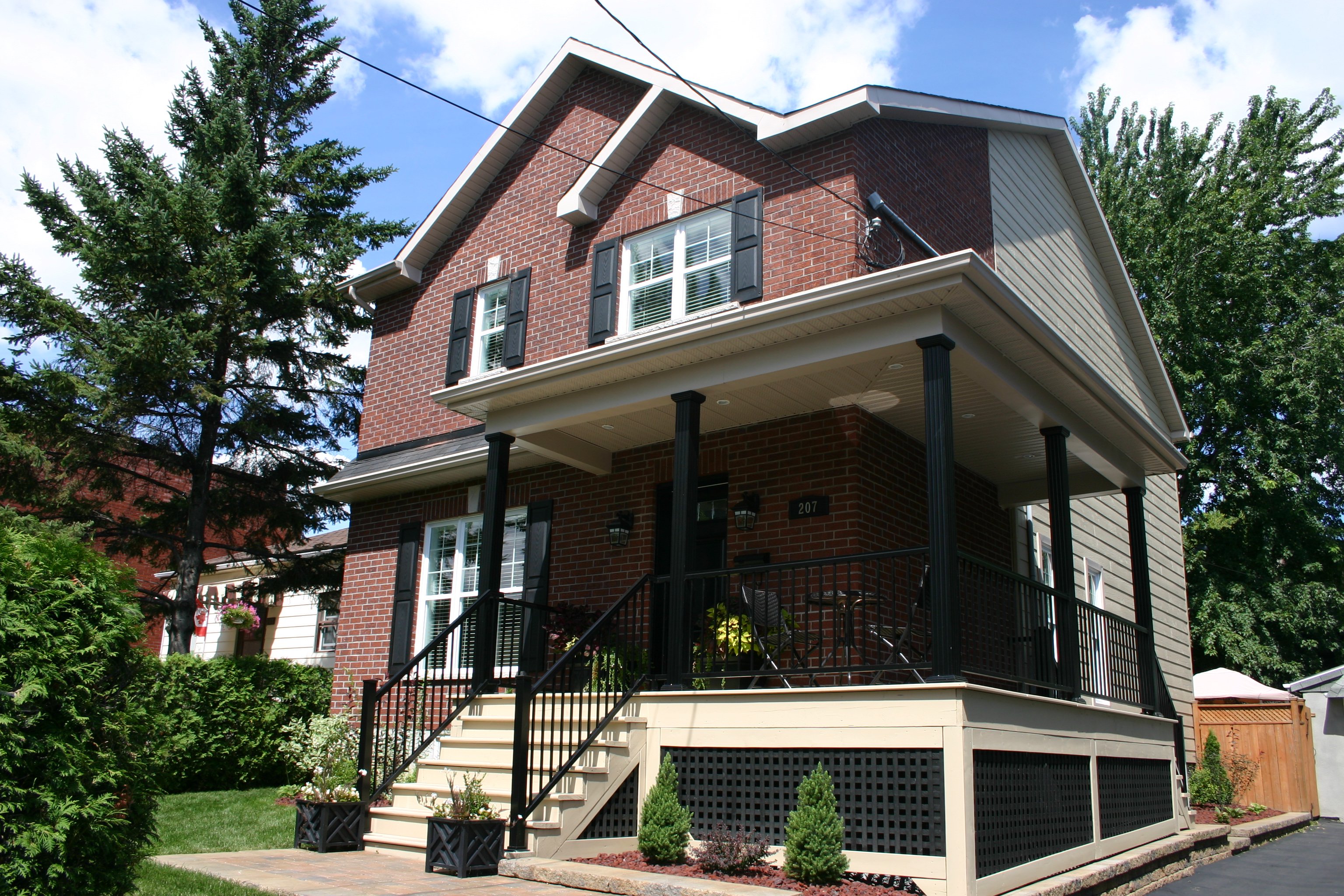 Home addition and exterior renovation Lasalle
Be inspired by this remarkable home addition and exterior renovation project on a house in Lasalle. You too can benefit from our expertise as a general contractor specializing in exterior construction and our turnkey construction services. Call us for a free consultation!
Project description
These owners of a two-storey house in Lasalle have lived in their home for many years, but wanted to offer it a complete transformation. After meeting with the Construction Précellence consultant, they went ahead with a major project: renovating and transforming the exterior of their house, and expanding the second floor to make it more functional. Our team specialized in architecture and design got down to work and designed a project in several stages: exterior siding and roof repairs, home addition, window repairs and construction of a front gallery.
Before starting the work, we made sure to obtain all the necessary permits to comply with construction regulations. For the expansion of the 2nd floor, we proceeded to the partial demolition of the existing 2nd floor. Then, we built the walls, the structure and the roof. Our electrician connected the house's electrical system to the new part. Finally, our finishing team added the insulation, plastered, painted and added the fixtures. Our team was responsible for changing all the windows (which were original) to energy-efficient sash windows.
Afterwards, we removed the roof and the wooden exterior siding. We then added the new asphalt shingle roof and engineered brick and wood siding. We disposed of all the remaining materials in a responsible and environmentally friendly manner. For the last part of the project, our team built a magnificent wooden gallery with steel railings, steel beams to support the small roof and two wooden stairs.
As a general contractor specializing in exterior renovation and expansion, we take care of every step of your project: obtaining permits, design, 3D drawing, demolition, construction, renovation, post-contract follow-up, etc. To do this, Construction Précellence has established sustainable partnerships with architects, inspectors, building material suppliers, electricians and construction workers to make this project a success.
Any questions?
If you would like more information on this home addition and exterior renovation project on a two-storey house in Lasalle, on our turnkey construction service, or on our prices, do not hesitate to contact us by email or by phone. Your first consultation is free of charge! Our team will be pleased to welcome you and answer all your questions.
Other home addition projects
Certifications