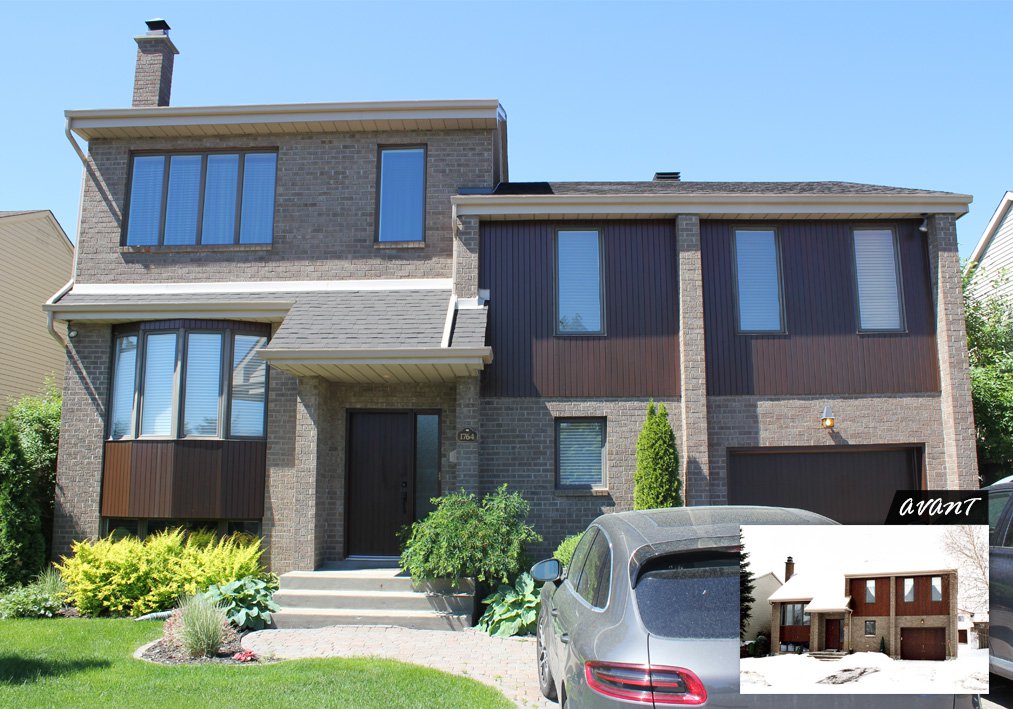 Half-floor addition Montreal
Be inspired by this superb half-floor addition project on a house in Montreal. You too can benefit from our expertise as a general contractor specializing in exterior construction and our turnkey construction services. Call us for a free consultation!
Project description
If you love your home and your neighbourhood, but you need a little more space, adding a half floor is a sustainable investment that allows you to add more value to your home. These Montreal homeowners needed additional rooms in their home and, while discussing with our advisor, decided to add a half-floor to their home, and to completely redo the exterior siding. Our team of architects worked to develop a detailed plan, a 3D plan and a mock-up so that the client has a clear idea of the project, schedule and budget.
Before starting the project, we obtained the necessary building permits for the addition of a new floor to comply with the municipality's regulations and standards. Then, we built a second roof for the new half-floor. Then, we demolished part of the existing roof, installed beams, framing and insulating the floor. Finally, we erected the new walls, as well as the new roof, and we sealed the building. Our team of electricians added an electrical system, before the finishing team insulated the walls, plastered and painted. The second phase of the project consisted of replacing the exterior cladding, mainly made of brick and wood, with masonry and engineered wood cladding. 
As a general contractor specialized in floor addition, we take care of every step of your project: obtaining permits, design, 3D drawing, demolition, construction, renovation, post-employment follow-up, etc. To achieve this, Construction Précellence has established sustainable partnerships with architects, inspectors, building material suppliers, electricians and construction workers to make this project a success from start to finish.
Any questions?
If you would like more information on this half-floor addition project in Montreal, on our turnkey construction service, or on our prices, do not hesitate to contact us by email or by phone. Your first consultation is free of charge! Our team will be pleased to welcome you and answer all your questions.
Other floor addition projects
Certifications