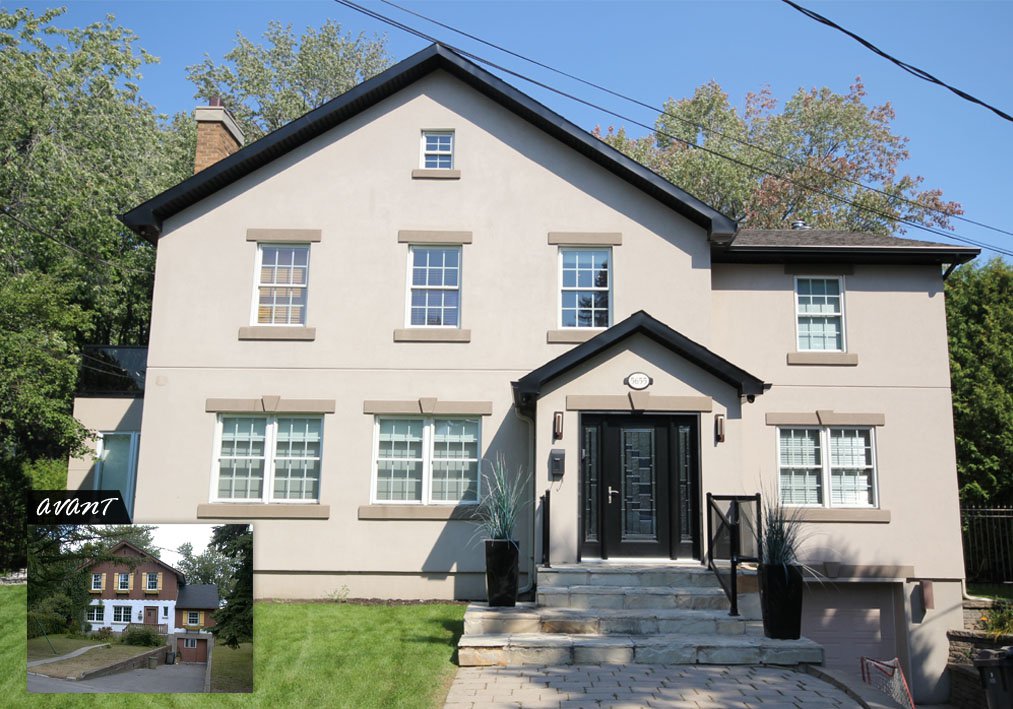 Exterior Renovation
Montreal
Exterior transformation and floor addition Montreal
Be inspired by this superb project of exterior transformation and floor addition in Montreal. You too can benefit from our expertise as a general contractor specializing in exterior construction and our turnkey construction services. Call us for a free consultation!
Project description
With the passage of time, it is normal to consider transformations for your home to make it a comfortable, practical and elegant place to live. These Montreal clients wanted to keep their home, while making significant changes to make it a dream home, both inside and out. With our design and architectural team, we set up a colossal project that involved a complete change of the exterior windows, a change of exterior siding, the addition of a porch to the front door and the addition of a half floor on the second floor, above the garage.
The first step was to obtain building permits in order to comply with the regulations and building standards established by the municipality. Subsequently, we removed the exterior siding and windows. Then, we demolished part of the structure above the garage to accommodate the half-floor, located on the 2nd floor of the house. For the new exterior cladding, we chose a light-coloured cement stucco. We have replaced the original windows with energy-efficient sash windows for better energy savings.
To give this residence a richer look, we have added a vestibule and changed the wooden entrance door to a steel door with lateral glass inserts. Our team has built a superb natural stone staircase and a brick pavement that leads to the entrance.
As a general contractor specializing in exterior transformation, it is our duty to take charge of each step of your project: obtaining permits, design, 3D drawing, demolition, construction, renovation, post-contract follow-up, etc. To achieve this, Construction Précellence has established sustainable partnerships with architects, inspectors, building material suppliers, electricians and construction workers to ensure that this project is a success across the board.
Any questions?
If you would like more information on this exterior renovation and floor addition project in Montreal, on our turnkey construction service, or on our prices, do not hesitate to contact us by email or by phone. Your first consultation is free of charge! Our team will be pleased to welcome you and answer all your questions.
Other exterior renovation projects
Certifications