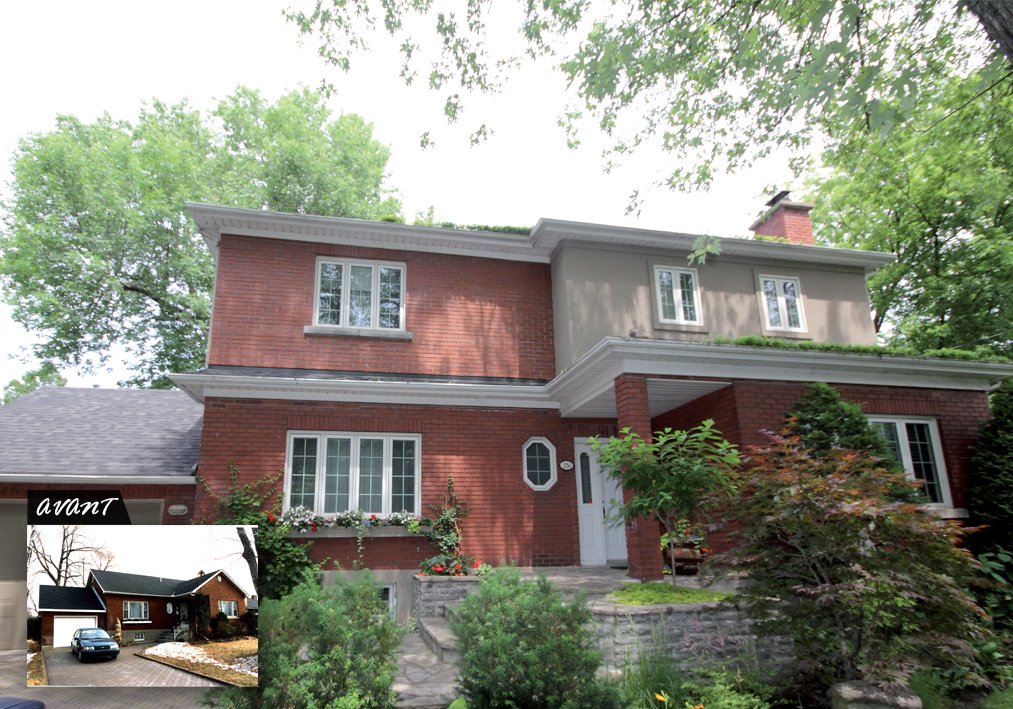 Floor addition
West Montreal
Floor addition bungalow West Montreal
Be inspired by this colossal floor addition project on a bungalow in West Montreal. You too can benefit from our expertise as a general contractor specializing in exterior construction and our turnkey construction services. Call us for a free consultation!
Project description
While this may seem like a very large project, the decision to add a new floor is a smart solution to a space problem and can significantly increase the value of your home. These owners of a bungalow in the Montreal West district killed two birds with one stone by adding a new floor to their house, but also by changing the exterior siding and facade. Our team of architects and designers set to work to design a detailed plan, including a 3D plan and a mock-up so that the client would have a clear idea of the scope of the project. 
Before starting the project, we obtained the necessary building permits for the floor addition to comply with the municipality's regulations and standards. First, we built a second roof to ensure the sustainability of the project. Then, we demolished the existing roof, installed beams and insulated the floor. Then, we erected the new walls and roof, sealed the building, added an electrical system, plastered and painted it.
The second phase of the project involved replacing the exterior cladding, mainly made of old red brick, with brick and fibre cement cladding. We also completely refurbished the original windows for energy-efficient casement windows. We also changed the wooden entrance door to a steel one and built a beautiful concrete and natural stone porch at the entrance to the residence.
As a general contractor specialized in floor addition, we take care of every step of your project: obtaining permits, design, 3D drawing, demolition, construction, renovation, post-contract follow-up, etc. To do this, Construction Précellence has established sustainable partnerships with architects, inspectors, building material suppliers, electricians and construction workers to ensure that each project is a complete success!
Any questions?
If you would like more information on this floor addition project in West Montreal, on our turnkey construction service, or on our prices, do not hesitate to contact us by email or by phone. Your first consultation is free of charge! Our team will be pleased to welcome you and answer all your questions.
Other floor addition projects
Certifications