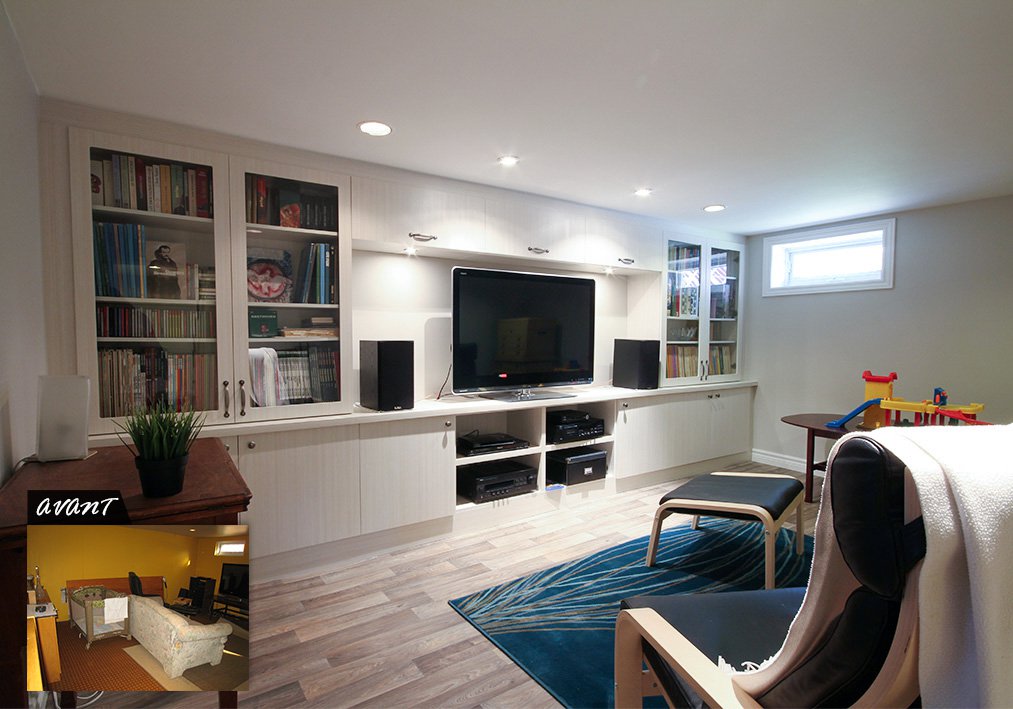 Basement Renovation
Longue-Pointe
Basement renovation Longue-Pointe
Be inspired by this magnificent basement renovation project in Montreal's Longue-Pointe district. You too can benefit from our expertise as a general contractor specializing in residential expansion and our turnkey construction services. Call us for a free consultation!
Project description
The basement of a house is often perceived as a place of both entertainment and relaxation. These Longue-Pointe wanted to transform their basement, whose decor and layout no longer suited their needs. Our design and architecture team set to work to create a basement renovation plan that would make this space a stylish, modern and practical place.
First, we removed the carpet and broken ceramic floor, cabinets, counter and sink in the basement. We called on living room furniture manufacturers to create the centrepiece of this basement: a magnificent custom-made multi-functional wooden cabinet, featuring four large glass cabinets, a melamine counter, a space for a flat-screen TV, and three horizontal opening cabinets. We have opted for recessed luminaires with dimmers and pale colours for a modern and warm style. 
As a general contractor specialized in basement renovation, we take care of all the steps of your project: obtaining permits, design, 3D drawing, demolition, construction, renovation, post-contract follow-up, etc. To do this, Construction Précellence has established sustainable partnerships with architects, inspectors, building material suppliers, electricians and construction workers to ensure that this project is a success across the board.
Any questions?
If you would like more information about this basement renovation project in Longue-Pointe, our turnkey construction service, or our prices, please do not hesitate to contact us by email or phone. Your first consultation is free of charge! Our team will be pleased to welcome you and answer all your questions.
Other basement renovation projects
Certifications